Peter Lai
Interviewee: Mr Peter Lai (PL)
Interviewer: (I)
2:15pm, November 30 2012, Murdoch University
I: Mr Lai, thank you for your time and allowing me to interview you. Could you please state your name and your birthdate and your birth place?
PL: My name is Peter Lai. I am ethnically Chinese, so I have a Chinese given name as well – Heng Leng. I was born 25 July 1951 in Hong Kong.
I: Could you please tell me how and when you started getting involved with the Vietnamese boat people situation?
PL: I was first involved in the Vietnamese boat people problem in the middle of 1979. That was virtually at the height of Vietnamese refugees into Hong Kong. I was doing something else at the time and I got a notification from the great management that I have to report back to the Security Branch, which is the part of the Hong Kong Government responsible for the Vietnamese boat people problem at the time. I had to report back to the Branch within 24 hours because of an urgency for an additional pair of hands to help deal with a large influx of people at the time.
I: What Department were you with at that time?
PL: The Security Branch. The structure of the Hong Kong Government – generally speaking – at the time was that you had the so-called policy level where you have different bits of the Government called 'Branches'. We had the Security Branch, Social Service Branch, Economics Branch and so on. And Security Branch is the branch that is responsible for all aspects of the Vietnamese boat people. Underneath the various branches are the executive departments, which actually are the body of people responsible for delivering services. So, you have departments which provide doctors, teachers, police officers or immigration officers to deal with all sorts of emergency situations. I was posted to the Security Branch at the time. Because of the unique nature of the Vietnamese boat people problem, it was thought that practically, all aspects of the Vietnamese boat people crisis was better handled as a single issue, under Security Branch direction at the time. So we're not just dealing with the security aspects, but we're dealing with virtually everything that Vietnamese refugees deal with when they come to Hong Kong – form their arrival to the time they depart. Their initial reception, their housing, feeding them, providing medical care for them, education of the children, making sure that they are adequately documented for the resettlement efforts of the UNHCR and make sure they are housed adequately until their departure comes. And that was one of my responsibilities.
Initially, because of the scale of the arrival, I think the Vietnamese refugees were arriving in Hong Kong in rickety boats and rescued by ships at sea at a rate of about one thousand persons a day. At the height of the crisis at the summer of that year, we had something like 68 000 people – Vietnamese refugees – stranded in Hong Kong at the time. Because of the rate they were arriving, the scale was unexpected. Initially, I was only concerned with finding them accommodation which includes feeding them, medical care and so on and so forth. The rest of the more 'leisurely' things like documentation, resettlement and education comes a little bit later. First priority – make sure that they have a roof over their heads and food in their belly. And if they're sick, being attended to by proper doctors and nurses.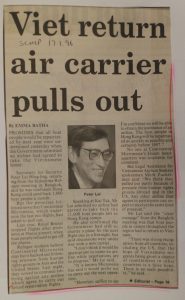 I: And how did you do that, when such a huge number of people came unexpectedly?
PL: Well the totality of the Government Departments dealing with all the issues must have been a huge effort. I'm sure they probably involved thousands of Government employees at the time. And in addition to that, many hundreds of voluntary agency workers as well. When we had established these camps for thousands of refugees, initially some of them were run by Government departments until we found voluntary agencies that were experienced in dealing with the situation to run these camps for them. Agencies like the Hong Kong Christian Services,(now Christian Action), Catholic Organisations, Social Service Organisation in Hong Kong, the Hong Kong Red Cross and others. They are, I think, overall better experienced and better equipped to deal with the interface between the refugees than we as part of the Government machinery. They are somewhere, moderating between the individual and the Government so I think it was decided quite early on that although the speed at which the refugees were coming, the Government was the quickest to mobiles, eventually we were envisaging that as far as is possible – and in some cases it's not – we would handover these camps to be run by voluntary agencies. So, taken together, there must be hundreds, thousands of people involved in the project. Because Hong Kong was a well regulated society and the Government was a well-regulated Government with experience in dealing with the normal business of looking after people, there is an established machinery that although would have to be re-focussed to deal with the scale of the problem, nonetheless was able to deal with the challenge because we are a structured organisation. There is no heroics in terms of the efforts of individuals, but it is a really genuine effort on the part of all.
I: How did you find accommodation for them?
PL: Obviously, the most readily available at the time would be ex-military camps. Over the years, the British garrison in Hong Kong – Hong Kong was under British administration at the time, until it was returned to China in 1997 – over the years, especially since the mid-50's, the British garrison has been winding down since the time after the war. And as the garrison draws down in numbers, camps that were used by the British army were left and reverted to us. Luckily, we had a few available camps at the time that were not occupied. So fairly quickly, they were the first line of defence so to speak. And these military establishments included not just camps, but the old royal air force and airfields. Because of the withdrawal of the royal air force, the [Kai Tak] airfield was not necessary. The sole helicopter fleet had left, so the whole of the RAAF facilities was then a very large piece of land on which we built these camps very, very quickly. There are others that were parts of disused Government estate – the wharf – in the middle of the harbour which was a Government wharf. Eventually, the numbers were so overwhelming that we had to make use of existing Government institutions. And by that, I meant for example, institutions of the correctional services department – then called the prisons department.
We literally had to vacate whole prisons and transfer the prisoners to other facilities, despite the over-crowding. The whole prison was kept for refugees. In addition, we had to build additional buildings within the prison compound to house as many of them as possible. Such an example would be Chi Ma Wan prison. And even then, that's not enough because of the scale of arrivals. Finding accommodation for 68 000 people within a year is not easy. We then had to resort to imaginative measures. We literally rented two multi-storey blocks if industrial estate which was just built and ready to be occupied flat by flat by industries, manufacturing industries etc. We rented the entire building and converted them into accommodation for refugees. Literally we were scrounging around all over. That's how we did it. So part of that was accommodation in existing buildings, part of it was on Government land including land returned to us from disused RAAF airfields and other army facilities and we built these great, big huts for the refugees. We put beds in them. And then when all else failed, we had to rent commercially.
I: So what was your involvement when you were first called?
PL: I was first called because of the scale of arrivals. My first and only job I was told was to find some accommodation for them. By that time of course, I didn't start the whole project because they were already halfway through coming in the middle of the year. By the time I had arrived, there is already a machinery setup to deal with the arrival. But the scale overwhelmed everybody and everybody was throwing up their hands and saying they needed some help to find accommodation. And that's where I was directly involved. And people were directly drafted in to do the odd job. After a while, once the numbers arriving stabilised a bit and the building program and the factory rent was on-stream so you could see that numbers were being accommodated, I then became involved in other things like processing them on arrival, making sure they are getting medical care, making sure they had adequate meals and making sure that as soon as proper refugee camp space was available, they were transferred to camps.
I: What month did you start?
PL: July. Can't remember the exact date, but in the afternoon when I reported back to the Security Branch, that was the same day on which A ship with 3000 refugees beached itself on the island. And 3000 refugees were spread all over.
I: What was that experience like for you?
PL: It was certainly new – it had never happened in Hong Kong. It basically tested our ability to deal with unexpected crisis. Luckily we did have a well-trained force of discipline officers, particularly the police and the Correctional Services Department to handle the situation. The police were called in to corral them, and practically everyone was relocated on the island. And the Correctional Services Department was given 24 hours for the whole of the Chi Ma Wong island were told to put their prisoners somewhere else. We used the entire prison to house these 300 refugees. 24 hours' notice. That's not an easy thing to do. I'll have to say I take my hat off to my colleagues for even just achieving that, never mind how well they did it. It was practically 24 hours a day, round-the-clock operation.
I: Why did you decide to vacate the prisoners on Chi Ma Wan somewhere else and keep the Vietnamese there?
PL: Where the ship was grounded was the island. You can see that it is actually pretty close to Chi Ma Wan – the camp designated to house them – was useful, because it was out in a little, isolated peninsula. And it was actually quite a large area, even though the number of building units within there was not that great. So we identified it as a possibility because once you closed off the entire facility and used it for housing refugees, you can then say, let's build additional huts within the same compound. In other, more urban areas – prisons in more urban areas – there isn't all that much space available. Chi Ma Wan happens to be in a rural part of Hong Kong, in a promontory within the peninsula almost all on its own. And there is a lot of land available for that. But eventually we ended up having refugees all over Hong Kong.
I: Was there a reason why those 3000 people from Skyluck who wanted to land on Lama Island, why were they not transferred to stay with the other refugees?
PL: They were treated on the same basis as other refugees, but, the rest of the other refugee camps are full! At the same time that there are there, don't forget, there are several thousand refugees in their rickety boats, just arrived within seven days, floating in the harbour in the Western Quarantine anchorage. Some of them, when they arrived in their rickety, little boats, they had to be quarantined for seven days because Vietnam was a plague-infested area at the time. International quarantine requirements were that they be quarantined for seven days before they could be landed.
And of course, there were some times when even after the seven days, they can't be landed because there is nowhere for them to land. There is no space for them to land. So, if you suddenly say, there are another 3000 more people; you can't just put them in another refugee camp. You've got to put them in a new refugee camp. Basically, anyone that was not in a refugee camp at the time, if they are to be housed in a proper refugee camp, we had to find a new camp for them. We built them, or built new huts in existing refugee centres, or we rented out the factory buildings and every single one was put in new accommodation. Everyone was full.