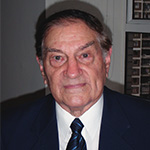 John Fortune
Interviewee: John Fortune (JF)
Interviewer: (I)
6:00PM, Friday 13 September 2013, The T Hotel in Pok Fu Lam
I: Mr Fortune thank you very much for giving me this opportunity to interview you. For the record, could you please state your full name, your date of birth and where you were born please?
JF: My full name is John Alfred Fortune. I was born in the UK and came to Hong Kong with the military in 1950, having been through the Military Academy. I was offered a job as an overseas civil servant with the Hong Kong Government in 1950. So I worked in Government House with Sir Alexander Grantham, as he was known then, and I worked there for three years and then in many Government departments.
I: What year were you born?
JF: I was born in 1929, so that makes me 84 years old today.
I: Could we start with your experience with the Vietnamese boat people. When and where did you start to get involved with them?
JF: Ok. I better give you a little bit of background, because I am also outside of Government. I am President of the Hong Kong Underwater Association. It was Federation, and as such, I am a very keen scuba diver. And a good friend of who I used to go scuba diving with, suggested that we should go down to Vietnam to do some scuba diving. I agreed, and so he arranged it all, and so we went down by Air Vietnam to Nha Trang – 400 km north of Saigon, as it was then – and we did some diving there. It was very interesting; we went all down the coast all the way down to Cam Ranh Bay. He then had accommodation where we were staying, and I was staying there with his friends. And they were three ex-'agents' – which was a bit strange. They had all been in Vietnam, they had fought in Vietnam and were living there and they were divers too. So I dived with them and got on fairly well with them.
And there was an American Consulate, also in Nha Trang, and they suggested I go to the American Consulate and have a few words with them. And when I was there [at the American Consulate] I met a General Pham, and he looked like a very worried South Vietnamese General. It was either 'Pham' or 'Phu'. And he asked me if I knew what the situation was like here – this was in March, towards the end of March in 1975. I said I didn't know, but he said he could tell me. He said Buon Ma Thuot has been surrounded for many months and is about to fall to the North Vietnamese [soldiers]. And the road from Buon Ma Thuot to Nha Trang has been cut, so it's out. And he said that 'my advice to you is to leave as soon as you can'. So that was difficult, but I managed to get a flight out of there from Nha Trang, which was the head of the Green Beret, the Americans when they were there. I got a flight on Bird Air, which was a pretty old CIA plane that was overloaded [with passengers] because they were taking all their friends and contacts out with them. So I got on and sat more or less with the pilot, because there wasn't anywhere else to sit. And we flew to Tan Son Nhut in Saigon. And I knew then that I would have to leave as soon as possible. I was lucky; I managed to get a flight on Air Vietnam to Hong Kong.
I: What month was this?
JF: Almost April. And the General had warned me that Nha Trang would fall in about two or three days' time, so that is why I had to get out.
I: Do you remember the dates?
JF: The dates are all printed in this book here. This is a very good book in fact, how Vietnam was liberated – I have given you a copy of the front.
I: So, to go back to your involvement with the Vietnamese boat people in Hong Kong, when did that start?
JF: Well, so far, I flew back and in Saigon at that time, people were very agitated and crowding to get onto boats. So when I got back to Hong Kong, I immediately went to the Security Branch and went to see the Secretary for Security – Mr Bim Davis – and said to him, there would probably be a lot of boats coming into Hong Kong and we needed to be prepared for them, just in case. I said that in Saigon, it was chaos; Saigon fell I think two weeks later. He said to me that I'd better set up some camps in case we did have an invasion of people coming in from Vietnam. So I agreed, and asked where I could go. He said there were a lot of empty military camps in Hong Kong. So I went around and had a look at the Sai Kung, the empty camp there; Chatham Road – there was one, but it came later; Double Ridge, opposite the Fanling golf course had another empty camp.

So I took my staff out and asked if I could have permission to spend Government money on setting up these places. We had to reconnect water, sewage, electricity and put wire up so the people were ok but inside. I had to arrange the feeding which was organised by the Government. I trained up some of the CAS into looking after the human side, human element of refugees coming in. I then flew off to the Philippines because I was also the Chairman of the Hong Kong Motocross Racing Team, and I took fourteen motorbikes over with the riders. No sooner had I arrived in the north in Vigan [of Philippines] that I got a call from the Ambassador, saying, 'please return to Hong Kong immediately'.
Luckily, I was staying with the Mayor of Vigan – Everesto Singsan – and said to him that I had to go back. He said that [there was] the whole curfew in the North Philippines, but he gave me his car and an armed motorcycle escort and I got back to Manila that night and then back to Hong Kong. And lo and behold, I was just in time because the first big ship with the Vietnamese [boat people] – the Clara Maersk  – was arriving. So I was back in time, and unfortunately, Joseph Pham – who can't be here as he is in China at the moment – I picked him to be my permanent staff member, to be in charge of that camp. We had gotten all the volunteers lined up to be in the Civil Aid Service. The Civil Aid Service is a uniformed, disciplined volunteer organisation.
They [the Vietnamese boat people] were landed in Guangzhou in the container port. And we said they were going to Sai Kung – not Saigon, where they had just come from. They [the Vietnamese refugees] were all from the South [of Vietnam] – this time; and they were all fairly happy to be in Hong Kong. They were a fairly mixed group. We had some who were very rich, some not so rich and quite a few from the girly bars and so on; because as you know Saigon had a lot of those. But we didn't have any Northern Vietnamese refugees this time; they were all from the South. So we had peace and quietness. That was 3,750 refugees on the Clara Maersk . That was a lot of refugees.
I: Did they have to go through the Princess Margaret Hospital first?
JF: No, they came straight through and we put them inside our camps. Inside the camps, we had CAS doing the perimeter controlling and control, and the AMS were in there as well looking after the medical side of things. But we didn't have any particular problems with them, and as it [the camp] got fuller and fuller, Chatham Road was used – as well as another – camp. Then, my thing was that we should encourage the various consulates to come in to do the interviews of the people [refugees] so they could be sent overseas to some of the other countries. And it was interesting because we called in the various consulates; we called in the Americans first because they were responsible for a lot of the trouble.
This book really lays down why they lost the war. After that, the Americans took in all people who had been associated with them in some way or another – working in some of the agencies and so on. The Australians said they would take some – they took quite a few, but the Australians wanted artisans; plumbers, fitters and so on. You could see that different countries wanted different things. Then after that, the French – being French – took in the girly bars and some of the really rich Vietnamese.
This was the only real trouble we had. One of the leaders of the families had a solid gold leaf waistcoat, and I wouldn't allow any of [those types of things] to enter the camp because it would undermine our authority. He was given an order to surrender his golden waistcoat and it would be put into deposit in the Hong Kong Shanghai Bank, and it would be kept there until he leaves. It wasn't a very popular idea with him, but I said it was the only way. If he didn't do that I said I would put him in the little prison-style container room where we could keep [the refugees] – we had one of these in each camp. So eventually he gave up his waistcoat and was put into the Hong Kong Shanghai Bank and he eventually got it back I suppose. But back to the idea of calling all the consulates in; the Canadians too came in and they wanted lawyers, solicitors, qualified people. The Australians were taking the artisans [from the Vietnamese refugees], the Canadians were taking the more qualified people and the Americans were taking those who had been associated with them. The British were slow off the mark; they took nobody at all really at the beginning. So we gradually over the year got rid of the 2,700. And at the end of the first year we were left with about 31 [remaining refugees] who were absorbed into [the population of] Hong Kong by the Government.
People were still arriving, but not in the proliferation in which they had come when it was first announced that Vietnam would be under the North control [control of North Vietnam]. A year or so later, the Vietnamese Government started to crack down on ethnic people in the south. And this caused in 1978 another flood of boat people. We still had the camps going, but this time the boats came in their hundreds and it was very difficult to know what to do with them. Initially, all of the boats were put into typhoon shelter, but it was obviously not a suitable place to keep them; you have some photographs and you know what the boats were like. It was so overcrowded [that] we couldn't keep the people on the boats, so we put a large penny bay – a large pontoon that was sixty feet by forty feet – which was anchored there.
All the boats were taken and put around the pontoon, and the water was located over towards the Disneyland, that was part of Penny Bay. What happened then was that as the boats came in, they would be brought up to the pontoon, interviewed, recorded and so on. The Civil Aid Service would feed the Vietnamese people at night, because it was so hot during the day, that we would call them boat by boat. And we had one hundred boats out there – it was really incredible. And we would call them up one by one, feed them, and water them and so on. And then send them back out again. We would get through the whole lot in one evening.
This was in June 1979. I was very concerned because June was the beginning of the typhoon season, and with all these small boats coming and being anchored off the islands of Penny Bay, we would have a lot of trouble if there was a typhoon. So I said that the only thing to do was to bring the people in. I had found, then, in Yamada that there were some very big, old warehouses, known as 'go-downs' in Hong Kong. And I said that if we could use these 'go-downs', we could load the people into the 'go-downs' and we would give them a mat or a bed and so on. Up to this point, the CAS had no trouble with internal fighting or anything like that. And we put them [the refugees] inside the 'go-downs' and their boats were taken over by the Government and destroyed. And that was part of the policy. So it caused the Yamada go-downs to become over-full eventually. So we looked for other areas – by that time we had set up the camp at Dogwood Ridge next to Fanling golf course. Lai Chi Kok at the end of the Kai Tak runway; there was a feasibility on the east end of having the refugees. But we did have a lot of camps and it became critical because they were coming in at a faster rate than the Hong Kong Government and the CAS could possibly cater for.
Then the Government policy changed and they started to publish notices and broadcasts to Vietnam saying that the chance of you [the Vietnamese refugees] being resettled elsewhere was becoming less and less. And in fact it was. The countries were getting tired of taking so many people, so what happened then was that these broadcasts were being made and the North Vietnamese were trying to stop it to a certain extent. So then we set up the policy of 'closed camps'. One of the closed camps was at Chi Ma Wan, which was a Correctional Services Prison. And David Wilson, who was the Governor, asked if I would go over there because Lord Howell from the UK was coming and I had better see him because he was doing a lot of work on behalf of Hong Kong. That would be in the late 1980's.
So I went over, and we went around Chi Ma Wan, and I took him across to Green Island where we had set up a holding wing, or holding camp. It used to be an old Government ammunition depot and it was abandoned, but we put people into there because we were worried about the bubonic plague and other contactable diseases [spreading]. And we didn't want that coming into Hong Kong. And he came across [Lord Howell], and on the boat going over, David Wilson asked me if I had any idea what the answer to the boats coming from Vietnam was. And I said that it [the problem of the boats coming] had to be stopped at source, because by the time they come here, it's too late.
So if they can be stopped at source before leaving Vietnam, which would be ok. And Lord Howell was in fact on the way to America, and he said that when he was there, he would have a word with the North Vietnamese to see if he could get them to try and stop people coming over. And so that was then, and I think that had a certain amount of effect and gradually eased down a bit [the numbers of refugees arriving]. We were still running lots of the camps, but it wasn't just us running the camps. The reason we didn't have much trouble in our camps was because I told my staff, when they had the refugees coming in, they must be divided into Northern and Southern Vietnamese, because the Northern Vietnamese could cause trouble and cause fights. So we separated [them] as far as possible when we knew they were coming; North in one part and South in another.
I also told my staff that they must listen to what the Vietnamese had to say. So each hut should have [something similar] consultative council, and the CAS managers who were my permanent staff, should meet with them once or twice a week from the representatives in each hut, to listen to them. And in this humanitarian way, we could solve a lot of problems. It seemed to work, and I'm pleased to say that in the CAS-run camps, we didn't have much fighting. The Police didn't quite have the same idea; they had a camp in Sai Kung on the airstrip and there was a bit of trouble there. The Correctional Services had another one on High Island and they had a bit of trouble too. But [given] we had more of a humanitarian aspect; we could look at their problems, help them as much as possible and solve the issues. So the last camp I set up with my staff was at Argyle Street.
Before this, we had moved the people from the go-downs in Yamada, because they weren't very comfortable. And it was a difficult time because the Queen was visiting [laughs]. And there we were in May 1975 at the height of it all. But we managed to move a lot of the boat people. We moved them into Kai Tak – don't forget I'm thinking back to 38 years ago so some of the dates may not be the same – into the old Mary quarters at Kai Tak from the R8 Royal Air force. They needed a lot of renovations and doing up, but they were ok and it all went very smoothly. That gave us a little bit of freedom and another empty camp if we wanted one. Now Argyle St was a military camp that was empty, and so the last load we really had was the Argyle St military camp area which was set up.
In each camp, I had at least one permanent staff and one or two other permanent staff members. But the rest of the disciplined, uniformed people were all CAS volunteers and we had great cooperation – which we always do have – from employers in Hong Kong. The employers in Hong Kong gave us the backing and the CAS volunteers get a nominal amount of money; because if they are going to lose by not being at work, so it's very nominal. Argyle St was successful, and we're now up to 1989. I retired from the Hong Kong Government in 1989 and went to work as the General Manager at Clearwater Bay Golf and Country Club.
I: During this time, what were your most memorable moments or incidents that stick in your mind?
JF: I used to go around the camps most frequently, and the thing was, we didn't have any trouble with the Vietnamese people. They were a peaceful people. We didn't have, or I didn't give them the double-bunk beds because what they would do was take them [the bunks] to pieces and use the iron supports as weapons. We put them [the bedding] onto matting, and so on. We had lots of matting and luckily it was warm. And that was ok.
We did set up one camp, which was a problem. This was on the Sai Kung military airstrip. It was a problem because – I don't know whose decision it was – but they had set up tents. And during my junior days of Government, I had been the administrator for the [local area]. And I knew that Sai Kung in June [season] flooded.
Immediately I heard they were going to put them under tents on the airstrip and I said, 'Wow, this is terrible'. And lo and behold, in no time they were flooded. And I was told to immediately move them [the tents] and I said, 'where can I move them to?' And I was told there were some nissen huts in the middle of Hog Kong Island Central; which used to be empty then. So I agreed, but there was no water, electricity, nothing. But we had a lot of cooperation from the Public Works Department. Within 24 hours, they had managed to reconnect everything. And we managed to move all of these Vietnamese into the area of Chatham Road, into the centre and it worked.
I: What's a 'nissen' hut?
JF: A nissen hut is a military, rounded hut. There are two types; there's the 'nissen' hut which is the smaller one for soldiers and people to live in. And then there's the 'romney' hut which is the big one for storing goods and whatever military stuff. The camp in Argyle Street huts were mainly romney huts, the big ones. Most of the others were nissen huts, the military huts. So it seemed to work; having a humanitarian approach in looking after the Vietnamese and listening to what they had to say in a humanitarian way; and also trying as hard as possible to get them settled overseas. England did eventually take some [of the refugees] and they were settled in London. A friend of mine was an ex-police office and ran the camp in London. So they did take them, but these were not very fit people. They were the last of the groups. Then after I left in 1989, it gradually tailed off. I think the last group in the camps closed in 1990.
I was fortunate that when I finished as the General Manager for Clearwater Bay, I worked as a consultant to an adventure travel agency and one of the things they asked me to do was to go to Vietnam to see North and South Vietnam; to see whether [Vietnam] was suitable to take tour groups from Hong Kong. So I went with another guy and we went to North Vietnam, and I looked at some of the golf courses and in Hanoi we had a wonderful reception. The thing with Vietnamese people I found was that they are likeable, and easy to get on with. So we went from Hanoi to Hai Phong, and I wanted to get back to Nha Trang but I couldn't get back there. And we went to what is now Ho Chi Minh and looked around. And I took a tour by myself to Da Lat in the mountains to the golf course up there.
I: I'd like to ask you, since you spent fourteen years with the Vietnamese boat people, what did the experience mean to you?
JF: Remember I told you at the beginning that I went to the Military Academy, which is a year and a half – it's like a University but for military training. They teach you all kinds of things, and really when I was handling the Vietnamese camps and people; it was the first time after my military training that I was able to humanise with the people. And I found that with the people, they were very 'human', I got along very well with them – I used to attend meetings with them – and by looking at their problems and trying to work out the answers, they appreciated this. So the fourteen years or so I was helping to look after Vietnamese was thoroughly enjoyable in a way, except I was sympathetic with the people.

And the other thing was, I was happy to be able to go back to the North of Vietnam in 1992 to travel all the way down, and visit Ho Chi Minh City and I went to Cuu Chi Tunnels. I went underneath to search and up to the border of the Cao Dai area, and I went to visit the Cao Dai Church and cathedrals and we had a wonderful time with no trouble. It was a great shame, but it seems now to have settled down. I would like to go back but I'm getting a bit old now.
I: Is there anything else you would like to add or is this enough?
JF: I think the information I have given you, some of it is a little bit conflicting. But the CAS publication that I prepared when I was in-charge there is a good publication. And it covers the aspects of this [issue]. Also, before I retired in 1989, in 1988 I was asked by the United Nations Disaster Relief Organisation if I would go to Geneva to lecture to the Undro people. So I went, and asked how many people were there. I was told 100 or so. And I asked how many nationalities but they didn't know. So when I arrived, there were 350 people and 35 different nationalities. And I gave them a lecture on the way the CAS operates. And they were quite amazed that you could use ordinary civilian people in uniform with discipline, and put them in charge of projects like this. Because the CAS did all kinds of things; mountain rescue, aircraft crashes, oil pollution at sea, house collapse, typhoon duties and everything you could think of. They were very busy. I was asked to lecture in London and again, I was put in charge of a whole syndicate including a Chinese syndicate that was a part of it. Again I lectured in America to FEMA – the Federal Emergency Management Agency; not in Gettysburg, it's a city near there; and again in California and in Hawaii. So a lot of lecturing and I put forward the CAS which was very rewarding because I think we have a very good system here. The CAS has over 4000 adult volunteers and over 2000 cadets. The cadets come from the poorer families and are first of all taught discipline then they are taught a trade. They are a little bit different from a boy scout, but they are uniformed and disciplined and they did have help from the adult-side as well. I was glad in a way that we had the opportunity to look after Vietnamese people in a humanitarian way. And I think my men and ladies – because we had about 800-900 ladies – who did a very good job. There were a lot of problems, but it was successful.
I: I am a boat person, and I was a refugee in America. And on behalf of the Vietnamese boat people around the world, I would like to personally thank you and your staff for what you have done for all of us.
JF: I am very honoured to meet someone [like you]. How did you come?
I: I came by boat to Indonesia in 1979, and we were left stranded on an uninhabited island in Indonesia. It was the jungle with nothing around.
JF: No one looked after you?
I: No. So initially we lost about 300 people and they were buried throughout the jungle.
JF: I'm sorry to hear that. It's a pity you didn't come north to Hong Kong. We would have looked after you.
JF: Vietnam is a beautiful country, I like it very much. I like the people and I also like the scenery. I think the war was a terrible shame. It was a pity, if it could have been sorted out peacefully that would have been ok. I pray they have now gotten the peace they deserve.
I: I hope so too. Thank you very, very much.