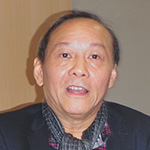 Eddy Chan
Interviewee: Eddy Chan (EC)
Interviewer: (I)
2:45pm, Monday 7 January 2013, Office of the Vocational Training Centre, Wan Chai
I: Mr Chan, thank you for giving me your time. Can you please state your full name?

EC: My name is Eddy Chan and I am now retired. I used to work for the Hong Kong Government, and I was, at one time, the Principal Assistant Secretary, dealing with the [problem of the] Vietnamese migrants.
I: When and where were you born?
EC: I was born in Hong Kong in 1950.
I: What year did you start to get involved with the Vietnamese refugees?
EC: I think if my memory serves me right, it would be around 1991 – '92. I think it would be around that time if I'm correct.
I: And what was your role at that time?

EC: My main duty at that time when I first reported to the Security Branch was that I would be responsible for providing accommodation for the Vietnamese refugees coming to our shores. And also the management of the camps. Later on after about a year in that job, my duties had change and I was then responsible for the repatriation of those Vietnamese migrants who were not eligible for refugee status. And they were sent home under the comprehensive plan of action as agreed by the United Nations. So I think I had two jobs during that period of time. The first one was to provide accommodation for the Vietnamese refugees; the second one was for the repatriation.
I: And both of those duties were within the period '91-92?
EC: It was between 91 and 94.  About 94, I was transferred to a different Government department. So I was with the Security Branch for about 3 years.
I: Both of those duties were apparently two of the most challenging ones, so you probably had a very difficult three or four year [period]?
EC: Yes, I would actually say that if I look back now in my career as a civil servant, or an Administrative Officer [in the Government], it was the hardest job that I ever came across.
I: Could you share with me some of the challenges you had experienced?
EC: First of all, it was the numbers of people coming to our shores on a daily basis. Every day, when I woke up, the first thing that came to my mind was how many arrivals. On a daily basis, 100, 200, 300, 400 [arrivals]…. So on a daily basis; you have to consider where you want to put the refugees. Do we have enough space? And of course the second problem is that we don't have a lot of land. So we had to put all our efforts into looking for suitable places for where we could build the camps to accommodate the Vietnamese refugees coming to our shores on a daily basis. So that was a very, very difficult job. We would have to look at different camps to look at what the capacities were. Were there any individual camps capable for expansion? Could we build more tents, could we build more huts so we could accommodate more people? Also, what makes it much more difficult was that at one point, we had to separate the Northern Vietnamese and the Southern Vietnamese. Once you mix the South Vietnamese and the Northern Vietnamese, there would be trouble. There would be fighting, there would be riots and there would be disturbances.
If there is a camp which is specifically designed for Southern Vietnamese, and it has spare accommodation, you cannot use it to accommodate the Northern Vietnamese. So you see the challenge. You have to find suitable accommodation to accommodate different groups of people, to avoid the rival groups from fighting and disturbances. So constantly, all the time, we would need to look for additional places [accommodation]. Secondly, obviously, another challenge was money. Because at the end of the day, whatever accommodation we provide, we needed to find money to finance the construction of the camps. At one point, our legislature – they were getting a little bit impatient with the international community about the lack of resources being given to Hong Kong to do that. But we would have to seek funding support from the Legislative Council to provide accommodation for the infrastructure for the Vietnamese refugees. So that was another political challenge that we need to convince the community that this was the right thing and why we needed to do it.
Another point obviously was the location of the camps, which would also be a challenge. Because, in the community, there would be criticisms, or objections from the local residents. And they may say that, they don't want a camp too near to their homes. So it's a very delicate balance that we have to deal with on a daily basis. We had to consult with the local people to assure them not to worry, the Vietnamese refugees are just ordinary people who are seeking refuge here. They are not going to take away your jobs; they're not going to taking away anything. They would need to wait to be determined as to whether or not they are refugees. And secondly, obviously would be the camp management. Discipline and management are very important when you are actually providing camps and accommodation. And again, a very difficult balance you would need to strike. Because on one hand, you would need to recognise that the Vietnamese refugees are not criminals. They are not ordinary criminals. But on the other hand, you need to instil some sort of discipline into a big population, you've got to be able to manage the camps in such a way that it would be run in a very orderly manner. And obviously, in any large population, there would be the criminal elements within a community. And so you would also need to deal with those various issues. Like drug addiction problems, drug trafficking, prostitution problems. These were also some of the things that existed in the camps.
Another issue was you couldn't deprive them of the right to legal representation. So if they wanted to see a lawyer, you should always be able to allow them to do that within a reasonable confine of – what we call – they've got to be able to have the freedom to talk to their lawyers without being heard. And also the screening process was also a very difficult challenge. Because at one point in time when all the Vietnamese refugees were coming to our shores, they were automatically regarded as refugees, and were being resettled by Western countries almost immediately without any fuss.  But gradually, as time went on, I think the cold facts were that Western countries were slowing down the resettlement rate. Because they felt that a lot of them weren't refugees. Particularly when they found out that a lot of them were Northern Vietnamese.
And one time, a lot of people were stuck in Hong Kong. The resettlement rate was getting very slow. So we had to introduce what was called a screening system [in order to be] able to screen out those who were not eligible for refugee status. And so we needed to introduce a screening system for these people. And there were obviously a lot of legal issues around the screening process, whether or not we had done it right. So how could we actually talk to the people? If you communicate through a different media, you may not get the story right. You may not be able to pick up the true facts, because you don't speak the language. So at one point in time, we had to use a lot of translators and interpreters.
I: Do you know why there were conflicts between the South and North Vietnamese?

EC: I think mainly because, the Southern Vietnamese were always regarded as a people being oppressed. And they saw the Northern Vietnamese people as the oppressors. So it's the oppressed against the oppressors. So if we mixed them together, they would fight. For quite some time, we found out that a lot of the Northern Vietnamese were fleeing the country mainly because of economic reasons. Mainly because of the typhoon season that wiped out all their crops.
The economic conditions were really bad in Vietnam. So if they couldn't earn a living, if they couldn't find a living that they could still sustain, then obviously they would need to go somewhere else to find a much better place where they could look for employment etc. So, in those times we introduced the screening policy. In introducing the screening policy, we were also mindful of the need to provide a Review Board. So that anyone who got screened out as a non-refugee, they could appeal against the decision of the Screening Officer.
I: Who involved the Independent Board?
EC: The Chairman of the Independent Board was the Justice Francis Blackwell. I couldn't remember if he was a Magistrate or District Court Judge. And the Board members would appoint members of the community – civil servants, not Officers. They were just ordinary folks. So we appointed them to sit on the Board so they would be able to look from an independent point of view. They were not Government and weren't paid by us. And to see whether [or not] the screening process was fair. Whether the Screening Officer at one point in time had overlooked certain important facts, or dismissed certain claims.
So we had a UNHCR representative sitting on the Board as well. And also we introduced in the whole screening process, at any one point in time, if the UNHCR considers a certain person [man or woman] was a refugee, no questions asked, he could exercise what we call a mandate. So the UNHCR could always exercise a mandate, to say that 'don't worry, he is a refugee'. And immediately, we wouldn't ask any questions. We would accept him [or her] as a refugee and we would present this refugee to the US, to European and other resettlement countries for resettlement.
I: Was the jobs of the Independent Board involve doing the interview or to review the screened-out cases when they appealed?
EC: Only the screened out cases. The asylum seekers were first interviewed by the Screening Officers. The Screening Officers were mainly Immigration Department Officers. A lot of them received training and we sent them to Vietnam. Some of them – not all – we gave them sufficient training on how to actually recognise a refugee. So they were all trained in a way. So the Board would actually look at the screening process to see the documentation, to see what facts were given, what facts were considered, what facts were not considered to see if there were any omissions along the way.
I: You mentioned the Officers were trained in Vietnam. By whom were they trained?
EC: They were not actually trained in Vietnam. We engaged the Vietnamese community, you know, to tell them about things in Vietnam so that they know. Otherwise if you have never been to Vietnam, how would you know about this and that. I only know from what you call a 'macro-background'. But the more detailed part is something that I don't actually know. I do know that all the Screening Officers were given sufficient training to go through the screening process. Otherwise there would be a lot of legal challenges. Because the lawyers when presenting at Court would state that your screening process is flawed, because your Officers aren't sufficiently aware of the situation in Vietnam. So this is something that I know they receive training.
I: So what were some of the incidents that stood out for you when you were searching for accommodation?
EC: There were so many. First of all, I'm not sure if you are aware of the procedures. When the boats arrived, most of them were leaky boats. The boats arrived and we had to put them in quarantine at Green Island. It's a very rough structure, just huts there. So when they arrived, they all had to stay in huts for a few days. Just to make sure that they don't come with diseases and things like that. Most of the problems would be with the lice they carry, because they would be on the boats for a long period of time. Then we had to get their names, see where they come from. And then from there, we had to arrange where they should go. Whether they should go to High Island detention centre, whether they could go to Shek Kong, Tai A Chau or Whitehead or places like that.. What stood out for me as important were the fires in Shek Kong. That was a big tragedy. It's difficult for me to say, but fortunately for me, I was on Leave on the day that happened.
I: When was that?
EC: I can't remember the exact date, maybe 1993. Shek Kong is an airstrip used by the old British army as what we call a disused runway, somewhere in the new territories. And on that runway, we built tents. The British army provided tents to build all along the runway, the tents to accommodate them. So at one point, the Southerners would be separated from the Northerners. Although they don't mix, they still mixed. One night, what happened was – if I remember correctly – it was on New Year's Eve.


EC: The Southerners went to the Northerners section, they enclosed and blockaded the hut, and then they set fire to the hut. That was a terrible tragedy a lot of people died. On that day it happened, actually I went to the UK for my holidays.I read the news, when I was on the aircraft. It was a very dramatic tragedy that we never forget. We actually had a public enquiry, to look into the causes of the Shek Kong fire. Why did it happen? What happened? What did the Commander do to deal with the fire? Why was the fire allowed to spread? Why was the fire not put out immediately? Those sorts of questions [were asked]. If I remember correctly, a retired Judge or a serving Judge – Justice Kempster – headed the public enquiry to look into the management of the camp. [Such as], why were the people not divided and separated, and how did it happen. What were the lessons learned, how we may actually prevent similar tragedies from happening again – that sort of thing.
I: Who would start the public enquiry, the public or the government?
EC: The Government.
I: What does a public enquiry mean?
EC: A public enquiry is a very serious and significant tool used by the Government to determine or find out what happened through an incident. We very rarely establish a public enquiry, unless it's a big thing, such as a big riot, or something like that.
I: Did you handle any of the riots?
EC: Actually in my time, the riots were not so serious. After I left the Security Branch it got worse. So I remembered there was one in Whitehead. Just when I was about to leave the Branch, they had a pretty bad riot in Whitehead. A lot of tear gas canisters were used. And so that was a big thing too. But I didn't actually handle the riot myself – my boss did. My boss might have a lot of recollections on that. Also if you have a chance, do talk to my boss – Clinton Leeks and Brian Bresnihan. They were the two refugee coordinators then. Clinton is now in the UK, I think he's in London. And Brian is in Ireland. And I remembered also going to the camps quite often at night. [We were] going to Whitehead, going to Tai A Chau, going to all these places to talk to the Vietnamese refugees to come out on the voluntary repatriation program.
Before the mandatory returnees [program] we had the voluntary returnees [program]. It was run by the UNHCR. And each returnee would be given sufficient money to go back to establish a business. I couldn't remember how much money they got. I think it was $50USD per person. If you have a family of six, you would get a few hundred USD. And in those days, that would be quite a substantial sum of money in Vietnam. You would be able to start a business and do well. So at one point, I remember going to the camps to talk to groups of people about the voluntary program. Why they needed to consider that, because they wouldn't have any chance of being resettled in the US. So their future lay in Vietnam itself, and the sooner they could get back there, the better for them.
Because they would be able to lead a normal life and I needed to convince them that it was a waste of time to live in a detention camp for their whole lives. I mean, imagine their kids being born in the detention centre and their kids wouldn't be able to see a bus! They wouldn't know what was going on outside the detention centre. So a better place for them to grow up would be back in their own country. And if they are not actually being persecuted, if there were no grounds for persecution then they would have no fear of being returned. So I spent quite a bit of time talking to different groups of people trying to convince them of the voluntary repatriation program. But obviously the voluntary repatriation program was not a success.
I: You said you went there in the evenings and at night time. Why was that?
EC: Mostly at night time, because everybody would be there you see. In the day time, they would all go to different places. Some of them would be working in the camps.
I: But they couldn't leave the camps anyway?
EC: That's right, they couldn't leave the camps anyway. So they would have to be there. And also, I would be able to leave my desk you see. I would be able to go out and visit the different camps. Because during the day time, it was very busy there. And even if you go away to the washroom, there would be about six or seven people trying to ring you up. They would want to interview you. Sometimes the Morning Post would want to interview you, asking [things like] 'why would you not allow this person to go in, but not this other person?' All these [sorts of] things [had to be dealt with]. But we needed to be worried about people trying to stir up trouble. We needed to be worried about people giving false hope to the Vietnamese refugees. So we needed to be able to somehow exercise restraint on what people could be allowed in. And so there was also another case, a very difficult case I came across. A Vietnamese migrant got married to a – what we call an 'Easy VII'. And that's also troublesome [for us].
When you repatriate them, you have to separate the husband and wife. The wife would have to go back to China, because Vietnam wouldn't accept her. Then the husband would have to go back to Vietnam because China wouldn't accept him. So it was a 'split-family' case, and it was a very difficult humanitarian problem. A very difficult issue when you have to stand up and defend why you are splitting up a family. And they would say, 'would they be ever able to be able to meet again?' And we would recommend they try the normal channels to be reunited. They should apply to the relevant authorities to seek re-unification. [The Authorities that were] either in China or in Vietnam. But otherwise, there's not much that we can do for these people who were screened out as non-refugees.
I: Were they kept in the same camp? Was that how they met?
EC: My memory is fading now. Maybe they met in different camps, and then they got married. They could still get married to [other] people outside the camps, because they were allowed to visit [others]. They were allowed visitors. You never know whether they met inside the camp or elsewhere. It's very difficult to determine.
I: Was it dangerous for you to enter the camps?
EC: No, I never had that feeling of being protected or needing protection. I never had that feeling, although you would see in the newspapers, weapons were being made. [This was confirmed] because the police were making routine inspections of the camps. And [the weapons] were unearthed. A lot of spears and knives and things like that. And sometimes, obviously, every time when I visited the camps, the camp superintendent would show me what he had found. Knives, axes and things like that. And sometimes, mainly because people had nothing to do during the day, they were not allowed to work. They had nothing to do, so they channel their energy out into doing something else. So making weapons happened to be a convenient way for them to spend their leisure time. And you'd be amazed at the things they used as weapons. I mean, we had a lot of NGO's wanting to provide different types or instruments or equipment for the people there. And they converted it into something else.
I'll give you an example. Skipping ropes – all the NGO's would let them have the ropes for the kids to play with – but they [the skipping rope handles] used for recreational purposes had metal inserted inside the wooden handle and used as a lever to climb over the fence to escape from the detention centre. The beds, for example, would have the bottom bed taken out. The bed would have a few wooden planks as a support. So the refugees would take out the less important ones, leaving the main frame so they wouldn't collapse when they slept on top of the mattress, so they took out the minor ones. And tried to use [the wooden planks] as a stake. And also, we provided them with electric fences, because in summertime, it was very hot and humid.
All the camps were provided with fans. And they took out the 'shield', and they took out all the metal parts of the fan rims. And [they] tried to make arrows and spears using them as knives. So it was very amazing, they channelled all their creativity into making weapons by the things that were given to them. And this was another problem we encountered. I understood that after I left, because of the repatriation program that was escalating, the unrest in the camps gained momentum as time went on. So as we were approaching 1997, I think the unrest in the camps got more serious. I wasn't there during '94-96, which was when the major disturbances and riots occurred.
I: When you went into the camps, would you go in with interpreters?
EC: Yes. I went in there with the interpreters, so we would talk to groups of people with the interpreters there. Also, I worked with the NGO's as well. And so that was the early part of my job. The second part was the repatriation program that I was partly in charge [of]. That was also a very difficult task, because we were people putting people onto aircraft that they didn't want to get onto. And so, it was a very different side to the story then. But luckily, for my part, I've been to Vietnam myself. I've been on a number or flights taking people back [to Vietnam]. Fortunately for myself, there wasn't much resistance. The first mandatory return was about two years before me and it was a terrible experience. They did it in the middle of the night. All the police in riot gear. They went in there [to the detention centres] as if it was a major gun battle. So the police had on their riot gear. They were in the middle of the night, they woke up everybody else and took everyone by force and took them in their trucks and loaded them in their aircraft. The next day, we had really bad press. The international community was up in arms.
We stopped that after the first time for a few years. Until such a time when we actually managed to convince the international community, that there really was no other alternative. Unless [the international community] were willing to take them on. If they [the international community] were not willing to take them on as refugees, we would need to send them back. Because of course, America was the major stumbling block. They didn't want that. They didn't want the refugees either. So from my point of view, that was very unfair for the US Government to oppose or object to what we did. But at the same time, they didn't want to take on the refugees as they regarded them as non-refugees. But [at the same time], they didn't want us to send them back. So that was a very difficult decision that we faced internationally. And there were a lot of obstacles in our way. I think mainly, at the end of the day, it was the 'MIA' (Missing in Action) list that was very concerning [to the US]. [That was] the military personnel that were missing in Vietnam. I think they [the US] were trying to get their people back, but the Vietnamese Government wasn't very helpful or cooperative on those fronts. I think at the end of the day, maybe because the Vietnamese Government was a bit more forthcoming with the MIA list. And so the Americans were a little bit more willing, then, for us to send people back.
Another thing that actually in our view, led to a lot of people in the latter part of the 1990's, to flee Vietnam, was the economic conditions there. They were not good. People just couldn't make a living. And the principal cause for that was the American embargo on Vietnam. Nobody was allowed to trade with Vietnam, and how could a country survive without international trade. So the trade embargo was a very important element in our view, as to why there were so many people leaving the country. A lot of efforts were placed on that, to persuade the US to end the trade embargo. And eventually it ended, and improved the flow of people which receded.
During the first forced repatriation, the airport was in Kai Tak, the old airport, and so we regrouped all the returnees – I can't remember from which camp. We regrouped the refugees and brought them to Kai Tak. And that was very early in the morning, about 4-5am, before the normal flight started. Then we put them in the terminal and were waiting for them to clear and go into the aircraft. At one point, [laughs] trouble started. I'm sure it was well planned, because they knew exactly what to do. And for our part, we were actually stunned and taken by surprise. One lady stripped off all her clothes in front of everyone, a lot of women suddenly took their clothes off. And all our policemen didn't know what to do because they didn't have any blankets. So they tried to find tablecloths and whatever material they could find to wrap around the ladies to try and stop them from stripping their clothes. So that was one episode on the first flight and the trouble [ensuing] when all the women stripped off their clothes. But I think we managed to get them to put their clothes back on and get back onto the flight and they [continued] without incident. And then they went to Vietnam. So that was the first flight. And so for all later flights, we actually equipped ourselves with blankets, just in case they did it again. We had a lot of blankets ready, anytime anyone wanted to strip themselves, we would use a blanket to cover them.
The second flight, I was involved with the Hei Ling Chau people. I had to get up at about 2am to get to Hei Ling Chau, which was an outlying island. I went there very early with the police and CSD people and the whole team went there. The night before, the camp management would separate these people and tell them, 'look, you have been selected to return. So you need to pack up your belongings, you need to go to a separate camp, a separate hut and stay there'. I think most of the time, it went well. There wasn't any trouble. No resistance. So they all packed their bags and stayed in different dormitories. And in the morning, we grouped them together, they had breakfast then we took them by ferry to Kai Tak. From there, we took them on the aircraft. And then, there would be hundreds of reporters. Hundreds, maybe 300 reporters, [were] lining up along the runway to witness the returnees' process. Because after the first 'bad' one, we promised the international press that what we would do would be transparent.
We wouldn't hide anything and we wouldn't use any unnecessary force. We would only use force when it was necessary. We would allow the media to come and cover the event, to see how the repatriation process was being carried out. So in the morning, after grouping the returnees together, we went through the security screening and took them onto the aircraft, one by one. And then we engaged what we called a Hercules aircraft. The first time I had ever been onto a Hercules aircraft. It was one where, in the old days, they would carry the military supplies. You don't get into the aircraft sideways – you get in at the back near the tail. And so we all went up the tail [of the aircraft]. All the seats were actually sideways. It was a very interesting experience, flying in a Hercules. [It was] very noisy. And we were together with the returnees, the camp management people, and also some counsellors. We needed counsellors to counsel some of the returnees who maybe emotional or cry a little bit. And we also had the Immigration people on board. Most of the time, on the flights I went on, there wasn't too much trouble. At first, one or two may be reluctant to [return]. But then, after some counselling, they were willing to walk out on their own onto the aircraft.
Occasionally, I think I witnessed one or two returnees being carried onto the aircraft. One or two struggling returnees needed to be carried. We used the word, 'helped'. We helped them along the way onto the aircraft. And that was how it was being done. Once the aircraft landed in Hanoi, I think most of them were quite resigned to the fact that their future lay back in their home. And so most of the time, they actually went down from the aircraft on their own. We didn't need to carry them. Because one very important thing the Vietnamese Government insisted was that we should not use force. We shouldn't be seen to be carrying them from the aircraft onto the tarmac. They must be seen to be walking out on their own, without being forced or pushed onto their own vehicles. If force was used, the Government wouldn't accept them. You would have to take them back. There would be a big bus, waiting for them to get on board. So they could be sent to a 'clearing centre'. At the clearing centre they would try to sort out which village they were from, to determine where to send them back to. They would need to spend a few days in these transit centres.
So it was a very challenging and very interesting time that I had to deal with.
I: Is there anything else [you want to add]?
EC: If I remember correctly, after I had left, the repatriation process was more difficult. Every time, the night before the repatriation we had to separate them. Because there would be a list, and you would have to tell them to pack their belongings for the move (from one hut to another).
I: How much notice did you give them?
EC: Not a lot of time. Because you don't want [to give them] time to plan a resistance [against the repatriation]. So you just give them sufficient notice to pack their belongings then move to a different place where they would be grouped together.
I: Would you say a few hours [notice]?
EC: I can't remember now. I think the night before, maybe after dinner, they would tell them, 'look you will be going home so please go and pack your bags. And having packed your bags, you will need to move to a different hut and stay there for the night'.
I: And was it all kept silent in the camps?
EC: I think so. Otherwise if you give them too long a notice, they would be able to plan [a way out]. Most of the troubles occurred the night before [repatriation]. They would barricade themselves in their rooms and they wouldn't want to leave the hut. Then the rest of the population then galvanised all the support and then said, 'don't go. Because resistance was later more fortified and more intensified, we had to appoint Justices of Peace (JP's) to go into the camps to monitor the repatriation process to make sure no unnecessary force was used or mistreated. Because once there was resistance, force would be used. Once force was used, we would be answerable to the international community.
Our commitment was that no unnecessary force be used. But in the case of a big riot… you would need to stand up and defend your position and defend to the world, this is how we did it. We didn't use unnecessary force, we only used force when we needed to and our actions were monitored by independent people from the community, to oversee the operation. So we engaged JP's. They had to move into some – I'm not sure whether it was the night before [repatriation]. But definitely on the day of departure, they would be there as early as 3-4am. They would then monitor the whole process. They obviously wouldn't go to Vietnam; their monitoring would stop at the aircraft. Then they would need to compile a report to the Governor, to say that they were there and whether there was any trouble. And if there was trouble, why was there trouble, how was it handled, was it handled reasonably well or not? Was unnecessary force used? If so, why [was it used]?
I: So the returnees were given notice the night before to gather their belongings, then they would be transferred to another camp?
EC: Not another camp, a dormitory within that camp. We won't try different people from different camps. We would only focus on one, i.e. Whitehead Section 2. We would gather those people and move them to a different section within that camp. So they would be able to stay in there. Otherwise we wouldn't be able to manage [the situation].
I: What happened next? Can you explain to me the procedure?
EC: And after they were grouped together in separate huts or dormitories, the next day, we would then ask them to leave. We would get them out the camp to go on a ferry. And we would take them to the airport.
I: Were they taken by a bus from the camp to the ferry?
EC: From the camp, they would be taken by bus to the ferry. And from the ferry, all the way to Kai Tak. And from Kai Tak, then they would be taken to a sort of hangar. Then they would go through the security process, to ensure that they had no weapons on them. And having done that, then they would go directly from the tarmac to the aircraft. And there would be lines of reporters watching the repatriation process.
I: From the time they left the detention centre to the time they get onto the aircraft, approximately how many hours?
EC: Actually, we would be there by about 4am at the latest. 3-4am. At 4am, we would reach Hei Ling Chau. So at about half past 4, if they would leave the place then whole process would end by about 7.30am.
I: That's not that long.
EC: Because the aircraft needs to get away before the first flight leaves or arrives [at the airport]. Otherwise the runway would be [blocked]. So they can't afford for the repatriation process to take such a long time.
EC: And then when we arrived in Vietnam, we would need to have a meeting with the Reception party. And we would hand over all the papers, the people and lists to them. And then they would ask us whether force was used. Any restraints were being used. And they would see the returnees, take them to the bus and then they would go and we would go.
EC: And so, that was how mainly my job was planning the repatriation process, booking the aircraft, getting everything done, getting people on board, making sure no unnecessary force was used etc.
I: What airlines or what aircraft was used then?
EC: We used C1-3. A Hercules aircraft. I couldn't remember which airline we used. It wasn't Cathay. It was a Far East Air Company (FEAC). Someone called John Murphy, would know. John Murphy was with FEAC.
I: And do you remember how much?
EC: I can't remember now.
I: I think Peter Choy mentioned that something like $1.5 million HKD per flight.
EC: Something like that.
I: And the crew were all provided by the FEAC?
EC: Yes.
I: And somebody mentioned to me that Cathay was used, so that must be the later days.
EC: Maybe. Because at one time, again I was lucky in a way – in one of the subsequent flights after I left the Security Branch, it went down the harbour. The aircraft came back from Hanoi without problems and took off from Kai Tak. But as it took off, it crashed and went into the sea.
I: Did anybody die?
EC: I think the pilots perished. Because of that, they may have later on engaged Cathay. But Cathay was actually engaged with voluntary flights. The voluntary flights used Cathay and Vietnam Airlines.
I: But the involuntary, forced ones were the ones you handled?
EC: That's right.
I: And how often did you organise those flights? Once every few months?
EC: Once every two months, or once every month. I can't quite remember now.
I: And about how many returnees from each flight approximately?
EC: Approximately about 30-40. Not too many people. The number of people that we could return to Vietnam would depend on whether they were accepted by the Vietnamese Government [or not]. So we sent them a list on a regular basis. And they would come back to us saying who the ones they could accept were. So the number of people who got sent back would depend on the clearance of the Vietnamese Government. So I think later on, the Vietnamese Government sent to Hong Kong a delegation to clear the number of returnees going back to Vietnam in order to speed up the process. SO I think later on, they would have the ORP once every month. But I can't remember that now. At first, the numbers weren't that great because the clearance was very slow. We would have to chase them, and the names. So the numbers actually at a later date began to increase.
I: So let's say you would send the list to Hanoi, how long would it take for them to get back to you?
EC: It took them quite a while to come back to us.
I: Maybe months, weeks?
EC: Weeks and months I think. If I remember, the delegation actually came to interview the people, to make sure they got the names correct. Sometimes the names may not be right.
We routed through the British Embassy. And then the British Embassy would take the case to the Government and then it came back to us. I can't remember exactly how long that took us. But at first, I think it took them quite a while to clear the lists.
I: Anything else that sticks in your mind?
EC: The only other impression I got was Tai A Chau camp. Tai A Chau was a very special camp that was specifically for the Southerners. The camp itself was a very leisurely camp, because it was far away from everything else. The people there were a lot more free that those in Whitehead or High Island or the others. They were able to swim in the sea, as the camp was more remote and less secured in a way. Although there was perimeter fencing, a lot of the people were able to have a swim whenever they wanted to. Because there was nothing there and it was miles away. That was the impression I got from visiting Tai A Chau. Whitehead was a lot more fortified. They had perimeter fencing [everywhere]. But a Vietnamese refugee would be able to climb a 30 foot fence within seconds. So you wouldn't be able to catch them if they got out. So they needed two fences – an inner and outer fence. And in between there was a track. And the track was for bicycles. So if they couldn't catch an escapee from the inner fence, they would still be able to catch them from the outer fence by using a bicycle. I was told they could get over a 30 foot fence within 5-30 seconds and then they were gone.
---
Second Interview
I: I wanted to ask you, what did the whole experience [of working with the Vietnamese refugees] mean to you? Those three years of your job?

EC: Oh, it was tremendous. I think my job as an Administrative Officer; this was the hardest job I have ever come across. The pressure is so high and so big. You don't want to leave your desk. Because once you leave your desk, there would be too many telephone calls for you to answer. [There would be] interviews from Newsweek, international problems etc. If it wasn't the media, it was the lawyers. And if it wasn't the lawyers, it would be the NGO's. And if it wasn't the NGO's, it would be the camp management. They would want to seek a directive. It was pressure all the time. So you cannot afford to make mistakes, because otherwise it would appear in the news the next day, and it would make an international incident. So, for me, it was a very valuable experience of dealing with people, dealing with aspirations, dealing with expectations and also dealing with reality.
But it also allowed me to somehow have a feel of the American hypocrisy that, at that time, I really disliked. They disliked everything that we did. When they were trying to repatriate their illegal immigrants from Mexico, they didn't even bother to tell the press! But what we did in Hong Kong, we involved everybody else. We tried to tell them we had nothing to hide; we tried to do it as humanely as possible and without any unnecessary force. And so, for me, it was a valuable experience in the international arena. And I got to see Vietnam! Basically, I went there a couple of times. At one time, I went with the Refugee Status Review Board, because the Review Board needed to look at Vietnam too. They needed to visit Vietnam and talk to the Authorities there to somehow acquaint themselves with the Vietnamese situation. So I went there with the Refugee Status Review Board, and I also went there on another occasion, just to speak with the Officials there. And one thing I didn't tell you earlier was that we had to separate the Southerners and Northerners later on. Within the Northern provinces, we had to separate the [different groups]. If they were from Hai Phong and Quang Ninh, they had to stay on different sides. It was a very interesting time.
I: Did you know why they didn't like each other? Could it be gangsters?
EC: I don't know. It happens all the time. I think it's a different culture. Even the Chinese, if you are from Southern China, our eating habits, out language is slightly different from Northern China. If you are from a province… we don't really quite get on with the others from different provinces. They are very strange to us. It is the same thing, I suppose. Maybe, it's more like America – the Hispanics don't get on too well with the African Americans and the Asian Americans? Even within the same country, because the country is so big, you have different provinces. And each province would have its own particular way of living. And when you group them together, there are bound to be conflicts. I think this is something new to us. We had to separate them otherwise they would fight. Later on, the camps were divided [into the different provinces]. [It was] very interesting.
I: So when people mentioned the words 'Vietnamese refugees' what comes to your mind?
EC: Actually, have you ever read the book written by a refugee called, 'Heaven and Earth'? I read that book, when I was doing the work with the refugees, and was very impressed by the way the author described Vietnam as it was then. 'Heaven and Earth' – it was made into a movie? So when you ask me about the impression I got of Vietnam, the first impression I got was from that book, [as] that book made a very strong impression on me. But otherwise, the impression I had was inevitably Hanoi, because I had never been to Saigon.
At a time when I went to Hanoi, it was still very backward then. As the aircraft went down, I saw a lot of fish ponds. And I was told, they were not fish ponds but bombed craters because of the American bombings which were so intensive in the Hanoi area. All the bomb craters were filled by water. So people would use them as a pond for fishing. So that was one impression that I got. But otherwise, I went to Quang Ninh, and it's a very scenic place. [It was] a beautiful place. Its borders are very close to China, the South-West of China. It's a very scenic place, a very rural country. But at the time, of course it was a very austere place. Now I suppose it's getting a lot better.